Specialized family business in the Benelux
From an early age we have been in love with wood as a unique natural product. Not surprising, knowing that both our parents and our grandparents are permanently active in wood production. It is now up to us to build on their expertise. That is why we launched COOKX in 2020 as a unique product line of sustainable kitchen accessories.
Third generation wood producers
Meanwhile, we are one of the last remaining specialized wood production companies in the Benelux. Moreover, we have grown up to be the proud inspirers of a company with its roots in wood. We are very proud to save the residual wood from waste, so that we can then use it for sustainable production.
Making unique products

All COOKX items are developed and invented in-house. We strive for a quality product with a sleek, minimalist design. As a result, all products match each other.

Sustainable production

We try to keep sustainability #1 in mind in all aspects of our business. Residual wood is reused, residual cardboard becomes filling material and the factory runs on green power supplies.

Responsible packaging

The box of our products is also the shipping box. As a result, we do not use double packaging . Less fancy, but very practical! We also use cardboard waste to refill our boxes. We do this with our cardboard shredder.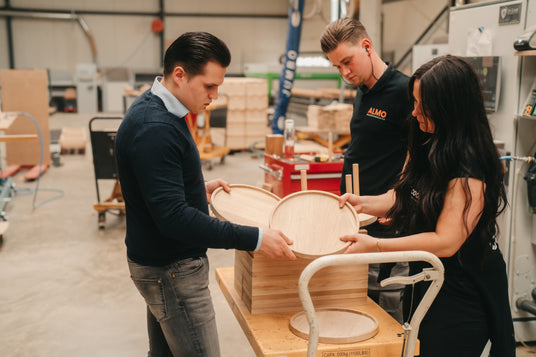 A unique product and concept in the Benelux
We take care of everything under 1 roof. The products are designed, tested and developed by our own team. We manage everything ourselves and the products you buy from COOKX are produced and shipped by Jeroen and Denise.
The COOKX vision
Our goal? Putting high-quality products on the market that will last a lifetime. And let people fully enjoy the experience of cooking and serving delicious food! Because happiness is in the little things.
To ask? To collaborate? let us know!